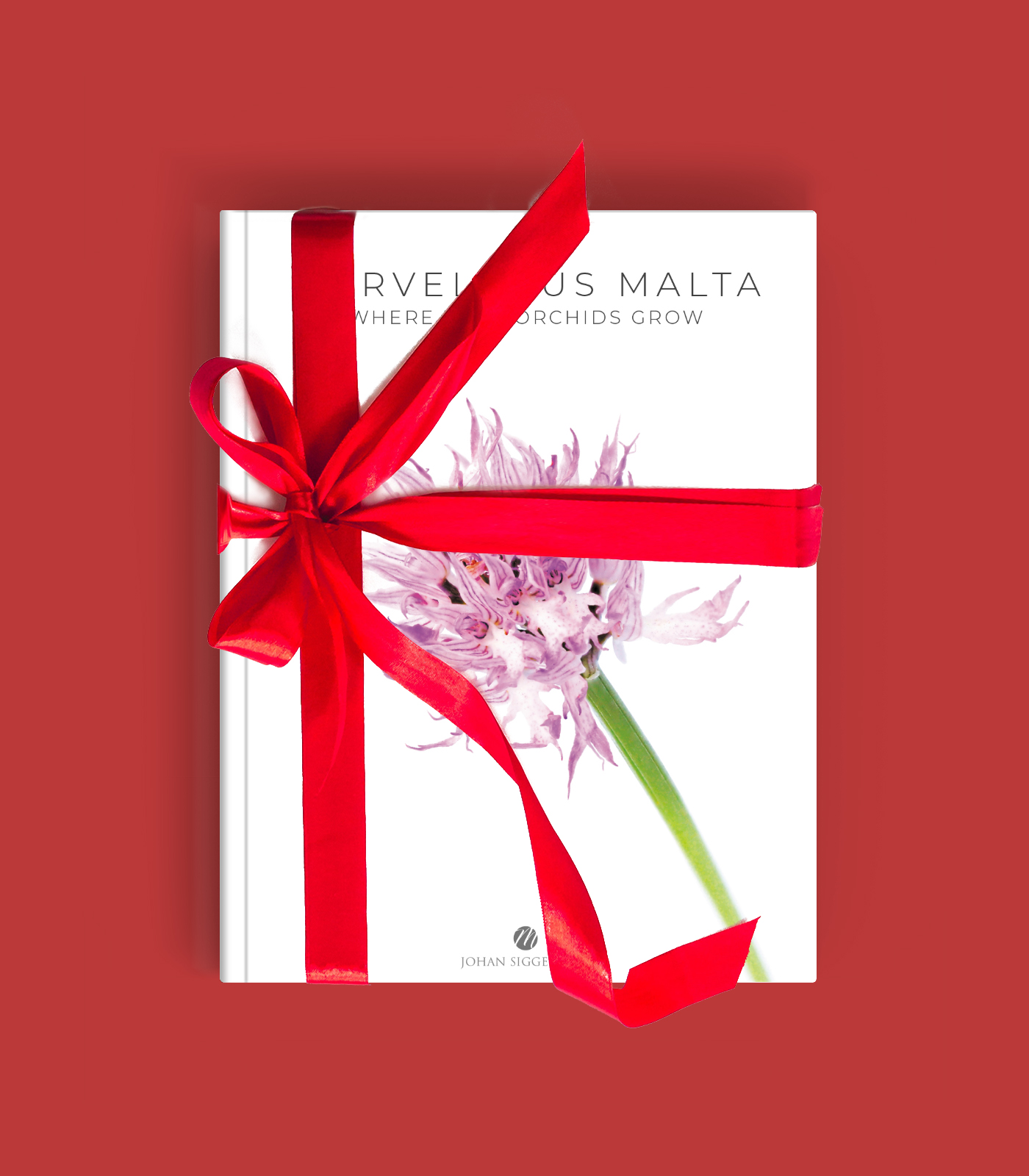 Did Your Clients Behave This Year?
---
Of course they did! They deserve a unique gift this year. Maybe something else than the usual hamper? "Where Wild Orchids Grow" is the first book in the MARVELLOUS MALTA book series about the Maltese natural beauty that is all around us. The book is packed with large-format photographs by award-winning nature and wildlife photographer Johan Siggesson. In this book Johan will bring the stunning world of Malta's wild orchids right to the reader.

The Maltese environment has featured frequently in local media this year. This is your chance to gain more trust and interest from your clients by riding the wave, and at the same time do your part in raising awareness.

A great Christmas gift!
---
It's beauuuutiful. Thank you and well done!!!

The presentation, the layout, the photography is superlative and nature and photography lovers should seek to have this book in their library.

Thank you Johan. The book is absolutely beautiful!!

Oh, my!!! I am blown away! What perfectly gorgeous images! But it's not just the images….your text is wonderful.

Congratulations

on a masterpiece!! "Well done" doesn't convey my dropped jaw and going through every page with wonder. Simply stunning!!!

I felt it is such a unique and beautiful homage to orchids in Malta - in a way they have never been seen before.

Such an outstanding book, Johan, suggest anyone who has photography and wild orchids at heart to make sure to get a copy of this book. Well done to a great work of art.

Already in our living room! Well done!

Local orchids celebrated in a beautiful book. A must have for both artists and naturalists.

A new addition to my Melitensia thanks to

Johan Siggesson

for this fantastic book. A book really worth having.

Amazing book and photography well done. I love it!

The photos are spectacular!!! Really stunning.

Highly recommended. Places Maltese wild orchids on par with other world class biodiversity. Holding onto my copy with appreciation.

A must-have for everyone in Malta and abroad who loves nature, wild flowers and photography and certainly a beautiful Christmas present.

This book is a must-have not only for nature lovers but for everyone out there. It is truly a work of art that helps us appreciate the hidden gems of nature surrounding us.

Wow, today I laid my hands on the recently published 176-page book titled 'Marvellous Malta, Where Wild Orchids Grow' by Johan Siggesson. This wonderful publication is a marriage between art and science, something nature photographers should strive for when they press their shutter button. An inspiration that deserves a place in every Melitensia library. Well done Johan.
Prices
| Copies | Your price |
| --- | --- |
| 1-4 | €59.00 |
| 5-10 | €49.00 |
| 10-20 | €45.00 |
| 20+ | Please call us! |
176 Pages

2200 Grams

270mm x 340mm

Signed by Author

Numbered by Author

Limited Edition

200gsm Italian art paper

100 Photos

Free delivery

Free gift wrapping

Totally unique gift